Wellbeing
Student wellbeing is a high priority for Seaham High School. We employ a full time Mental Health & Wellbeing Practitioner who promotes mental and personal wellbeing in school alongside 1-1 and group sessions with students.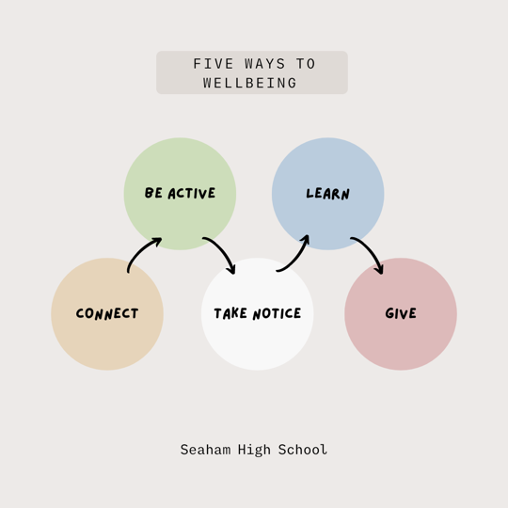 Connect – connecting is about building relationships to provide a sense of belonging. Connecting with people at home, school and any groups (e.g. football teams, youth clubs etc.) will build social foundations in your life and support you each day.
Be Active – exercise makes you feel good, it's great for both mental and physical wellbeing. It can improve unhelpful thinking, increase confidence, reduce stress and boost your mood. Try any physical activity that suits your level of fitness - go for a walk, run, dance or play a game of football.
Take Notice – mindfulness is defined as "Paying attention in a particular way: on purpose, in the present moment, and non-judgementally". Studies have shown that being aware of the present directly improves your wellbeing, savouring the moment keeps you focused on the here-and-now, instead of thinking about the past or worrying about the future. Feeling in control of your thoughts can help reduce stress and anxiety.
Learn – learning or trying something new can help increase self-confidence, make you feel good and improve your ability to cope with everyday problems. Learn to cook your favourite food, sign up for an after school club or rediscover an old hobby – set yourself a challenge that you will enjoy.
Give – people who help others are more likely to rate themselves as happy. Research has shown that committing an act of kindness once a week, for 6 weeks, was associated with an increase in wellbeing. Good deeds can be anything nice and helpful that you do for someone else – hang the washing out at home, ask a friend how they are, or volunteer for a school or community project.
What is Mindfulness?
-taken from 'Mindfulness for Teens'
Asking someone to define mindfulness is kind of like asking, "What does chocolate taste like?" Or "What does your favourite song sound like?" Definitions can only give you a small idea of what the real experience is like. Just reading about mindfulness without experiencing it yourself is like going to a restaurant to read the menu, without tasting any of the food. Just as the point of going to a restaurant is to taste the food, the point of mindfulness is to experience it for yourself. That said, there are some descriptions of mindfulness that might be a good place to start. Jon Kabat-Zinn's definition of mindfulness is "paying attention in a particular way: on purpose, in the present moment, and nonjudgmentally" is simple and to the point.
Mindfulness is all about paying attention to the present moment. Mindfulness is about shifting out of autopilot and awakening to the here and now. Mindfulness is about freeing yourself from regrets about the past and worries about the future.
Here are a few other ways of describing mindfulness: "Being present" "Awareness" "Awakening" "Concentration plus attention" "Seeing clearly" "Compassionate awareness" "Openheartedness" "Loving presence."
People in every culture around the world have recognised the wisdom of openhearted, present-moment awareness, whether or not they called it "mindfulness," for thousands of years. Everyone can be mindful. You have probably already experienced moments of natural mindfulness. Perhaps you've had times, without even trying to, when you were deeply aware of what you were doing; the only thing that mattered was the present moment—the past and the future seemed to disappear—and you were filled with gratitude for being alive. Maybe this happens for you when you play sports or watch a play. Or maybe you experience this kind of awareness when you pet your dog or cat, or when you listen to your favourite song. Whether you realised it or not in those moments, you already know how to be mindful!
Living life more mindfully can help you to handle stress when it arises and also experience life more fully, with more joy and gratitude.
Additional information on Mindfulness for Teens is available at - https://www.mindfulnessforteens.com/
What is Cognitive Behavioural Therapy, and how can it help?
Cognitive Behavioural Therapy (CBT) is a talking therapy that helps you to overcome difficulties.
CBT is an evidence-based therapy that can help young people make sense of their thoughts, feelings and behaviours. Thoughts, feelings and behaviours are all linked; if you think upsetting thoughts then you'll feel upset, and then you're more likely to behave in an unhelpful way which will increase the upsetting thoughts and strengthen the feelings. This is known as a vicious cycle.
Although we can't directly change our feelings, we can break the vicious cycle by changing the way we think and behave; this will, in turn, improve the way we feel.
Low-intensity Cognitive Behavioural Therapy is available in school, supporting with mild-moderate difficulties and providing preventative strategies (known as psycho-education). CBT can be used to help young people struggling with the following problems: anxiety, low mood, phobias, worry and obsessive compulsive disorder (OCD).
Useful Self Help apps for students
NHS – CAMHS CRISIS

Tel: 0800 051 6171

Shout – listening support

Text: 85258 (text Shout)